Clarkson University alumna Simoon Cannon '97, founder and CEO of Melanina, LLC, will speak at Clarkson University's December Recognition Ceremony on Saturday, December 15.
The University holds the special December ceremony for graduates who are not planning to return for the May commencement. Simoon, who earned a bachelor of science degree in chemical engineering from Clarkson, will address students and their families.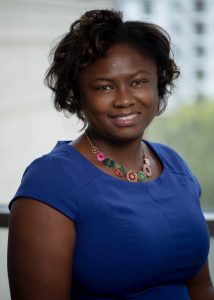 Simoon is an entrepreneur, chemical engineer, publisher and logistics expert with more than 20 years of experience. She is an innovator in artificial intelligence and "big data" in fuel automation and inventory management for the oil, gas, and aviation industries.
From 1998 to 2014, she held various positions eventually becoming a global leader at ExxonMobil.  Simoon worked in research and engineering and other global departments – aviation fuels marketing, marine transportation optimization, logistics & business development, regulatory fuel environmental compliance, and refining.
Simoon traveled and worked all over the world, including England, Belgium, Singapore, Australia, and Canada.  She sailed on marine voyages in the transportation of crude oil.  She negotiated with government representatives in national oil companies in West Africa at the height of the 2009 marine piracy rampage.
In 2005 under the Clean Air Act Amendments of 1990, Simoon had the opportunity to work with governments of various countries in reengineering ExxonMobil's trade and supply systems to transport cleaner air fuels such as ethanol, biodiesel, and low sulfur petroleum products around North, Central, South America, and the Caribbean.
She served as a member of the Clarkson recruiting team for ExxonMobil for over 16 years and returned every year since graduation to hire the best and brightest Clarkson graduates.
From 2014-2018, Simoon served as General Manager – fuel logistics & quality assurance for Delta Air Lines. Simoon created and built a logistics organization to facilitate the trading and transportation of petroleum products. She served as Jet Fuel Quality Compliance Advisor for multiple aviation agencies, Global Crude Strategist & Logistics Advisor, and supported Delta Air Lines and its' subsidiary refinery, Monroe Energy.
Simoon founded Melanina, LLC in 2014, parent company to Melanina Organics beauty care and Mela Land Adventures books and more.  The company produces consumer products in health, beauty, and entertainment for children, teens, and adults with sensitive skin.  She has served in many capacities in her company, including formulating skin and hair care natural products, designed to be natures secret and moms cure for atopic and seborrheic dermatitis.
Simoon has also served as an adjunct professor in the MBA program at Virginia International University. She has created various STEM programs in her church and community.
She received her MBA degree from the University of Maryland, College Park and is currently pursuing a doctoral degree at Georgia State University with plans to graduate in 2019.
She and husband Tim are proud parents of son, 11-year old Yanni and a 9-year-old daughter, Chaya.
Click here for a shareable link: https://www.clarkson.edu/news/alumna-entrepreneur-simoon-cannon-speak-clarkson-university-december-recognition-ceremony-dec