The University will be following all CDC mask guidance that has been adopted by New York State Public Health and the State's continuing COVID-19 response orders and updates. See highlights below, including the chart of allowable "green activities" and the links to the full guidance that went into effect in New York on Wednesday, May 19, 2021.
The CDC has advised that fully vaccinated individuals do not need to wear masks. Unvaccinated individuals, under both CDC and state guidance must wear masks in all public settings. The Department of Health strongly recommends masks in indoor settings where vaccination status of individuals is unknown.
As part of Clarkson mask etiquette, we ask that everyone who is on campus and/or conducting University business continues to carry a mask with them at all times and follows the chart for green activities.
Indoor hallways and restrooms, as well as walking among tables in dining rooms, are considered public spaces and as such, masks should be worn by all people regardless of vaccination status in these spaces on campus.
Even among vaccinated individuals in small group settings that meet CDC guidance, we should obtain mutual agreement among all parties within these campus interactions to confirm if we will be wearing masks around each other. We respect that some members of our community would like to take extra steps to protect themselves and others from any potential exposure.
All larger University events and will require mask wearing per current NYS guidance. This includes the Class of 2020 Commencement on May 22, 2021.
As part of Clarkson's Code of Conduct, all members of the Clarkson community are expected to adhere to NYS and CDC protocols based on their own personal circumstances.
Highlights on CDC Updates for Fully Vaccinated People:
From: https://www.cdc.gov/coronavirus/2019-ncov/vaccines/fully-vaccinated-guidance.html
Fully vaccinated people can:
Visit with other fully vaccinated people indoors without wearing masks or physical distancing
Visit with unvaccinated people (including children) from a single household who are at low risk for severe COVID-19 disease indoors without wearing masks or physical distancing
Participate in outdoor activities and recreation without a mask, except in certain crowded settings and venues
Resume domestic travel and refrain from testing before or after travel or self-quarantine after travel
Refrain from testing before leaving the United States for international travel (unless required by the destination) and refrain from self-quarantine after arriving back in the United States
Refrain from testing following a known exposure, if asymptomatic, with some exceptions for specific settings
Refrain from quarantine following a known exposure if asymptomatic
Refrain from routine screening testing if asymptomatic and feasible, depending on the setting
Fully-vaccinated people should continue to:
Take precautions in indoor public settings like wearing a well-fitted mask
Wear well-fitted masks when visiting indoors with unvaccinated people who are at increased risk for severe COVID-19 disease or who have an unvaccinated household member who is at increased risk for severe COVID-19 disease
Wear well-fitted masks when visiting indoors with unvaccinated people from multiple households
Avoid indoor large-sized in-person gatherings
Get tested if experiencing COVID-19 symptoms
Follow guidance issued by individual employers
Follow CDC and health department travel requirements and recommendations
The CDC has created this graphic for choosing safer activities to wear or not wear a mask.  This version was current as of May 13, 2021 — for the most current version go to: https://www.cdc.gov/coronavirus/2019-ncov/vaccines/pdfs/choosingSaferAct.pdf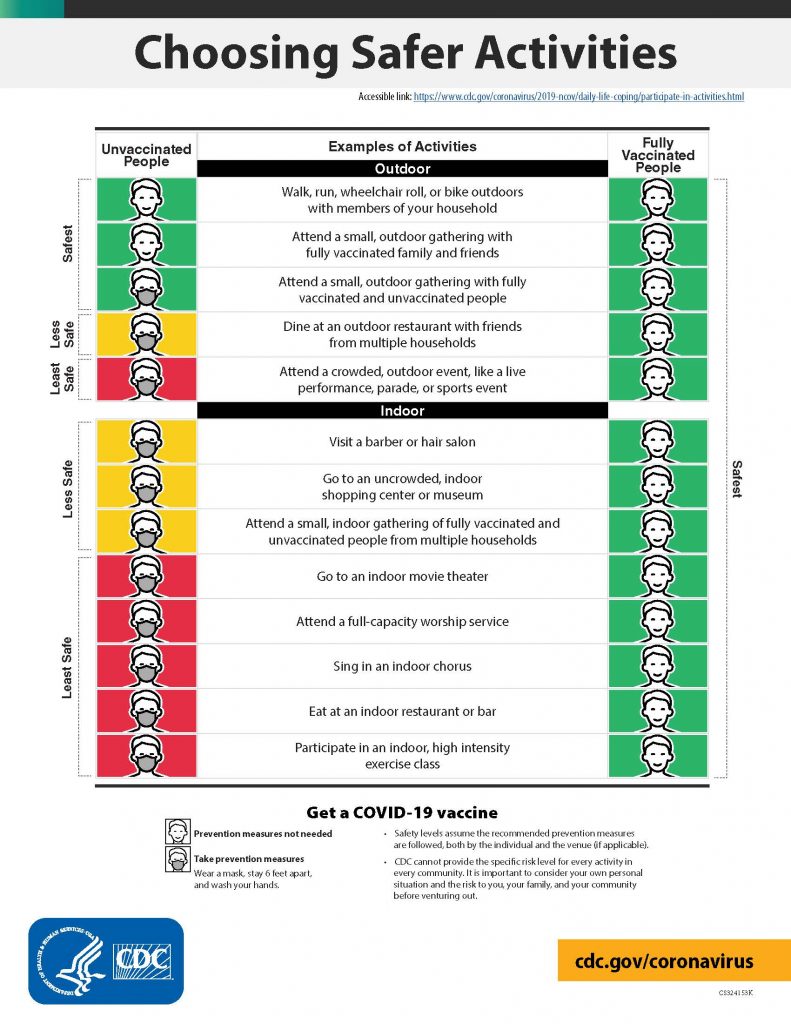 If you have any questions about this communication, please contact clarksonhr@clarkson.edu (employees),  studentaffairs@clarkson.edu (students/parents) and/or me.

Kelly Chezum '04
VP for External Relations
Restart/Rebuild Communications Lead
kchezum@clarkson.edu