A collaborative effort that began as a first-year student business plan at Clarkson may soon set a new standard for Personal Protective Equipment (PPE). A Clarkson alumnus is leading the charge, with the help of his former professor and Clarkson's Shipley Center for Innovation.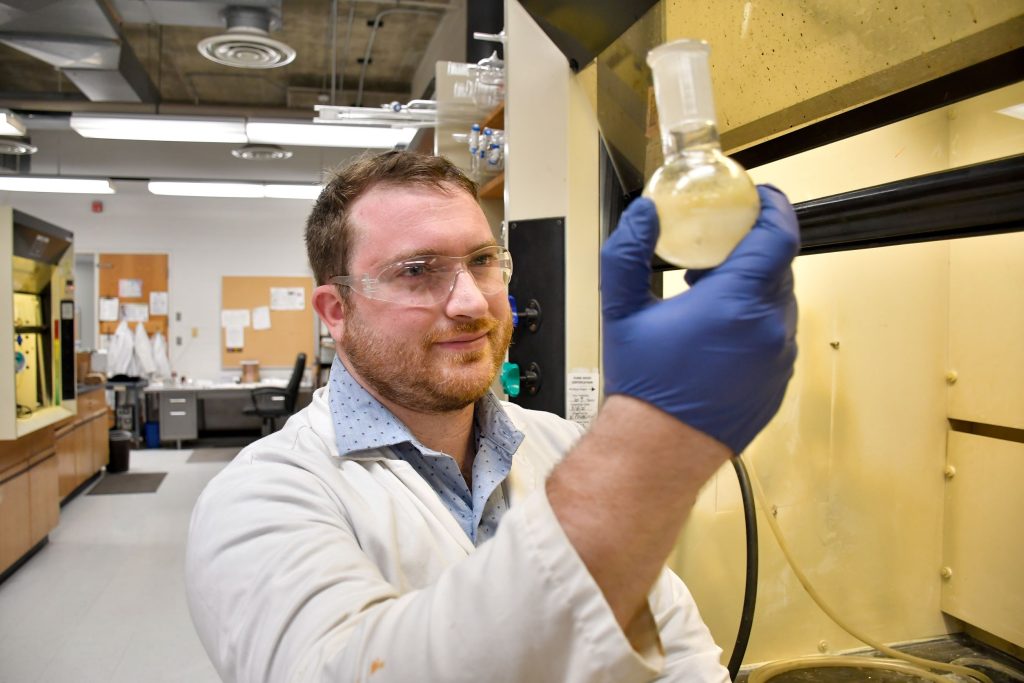 Matthew Borowiak '19, a chemical engineer who started his own company, Workers First, during his time at Clarkson, was recently back on campus to continue developing his line of acid-neutralizing products.
Workers First, originally founded in 2016 while Borowiak was a first-year student at Clarkson, aims to protect people who serve in a wide range of functions – mining ore, advancing science, serving in the military, acting as first responders – and in doing so are exposed to acids.
Borowiak returned to Clarkson in September to continue working with Adjunct Research Chemistry Professor Dr. Richard Partch to develop the manufacturing process for his newest product. Having already developed a cloth and a powder capable of neutralizing acid, Borowiak has redirected his focus on a more versatile adaptation.
"The new product that we are looking at producing is called PolyReact ™," Borowiak said. "This new product is a pellet and the pellets can be made into fabric, construction materials, or powders that can go into paints."
Borowiak has returned to his home in Pittsburgh, where he will continue product development in his incubator lab. He is ambitious in his business plan, hoping to have orders in customers' hands by the beginning of next year.
Borowiak is currently riding a robust financial boost from a National Science Foundation Small Business Innovation Research Grant and investments from a recently completed convertible debt round, which involves multiple Clarkson alumni investors. But his path to this point has not been without its hurdles.
The first challenge for Borowiak came at the inception of his plan, in finding a viable path forward for his initial idea. As a first-year student, he approached Shipley Center Director Jamey Hoose with a broad product concept.
"I originally pitched an idea to Jamey that I came up with in seventh grade for a chemical suit that could detect danger and produce the exact solution to it. That was my whole idea," Borowiak said. "When I pitched it to Jamey, I remember him telling me that was a really big idea, that I had four-and-a-half years here, and I should try to pick something I thought I could solve in that timeframe."
Opting to narrow his focus, Borowiak zeroed in on acids.
"I had already experienced working with acids in my freshman lab. When you work with acids, even when you're wearing the correct PPE, you still feel it penetrating your gloves," he explained. "I was told essentially, that was the standard, which I thought was extremely dumb. That is just not how it should be."
Borowiak connected with Dr. Partch, who allowed him to work on his idea in his lab. After developing the chemistry for a material that neutralizes acid on contact during his junior year, Borowiak filed a full patent on his prototype fabric, which was granted in 2021.
Upon graduation, though, uncertainty set in.
"I graduated in December of 2019 not really knowing where I was going. I was thinking about maybe getting a job," Borowiak said. "But I also had this company which was great, that I started with the help of the Shipley Center."
 The recent graduate moved to Pittsburgh, where he dove headfirst into his business.
"I decided to go for it," he said. "I found an incubator there called LifeX Labs, and they gave me a lab space and a mentor who I could speak to weekly that helped me to really overcome the business side of this. I am an engineer, I had a lot to learn when it comes to the business side." 
Borowiak began his work just months before the COVID-19 pandemic but was spared from any delay thanks to his lab's seclusion. Through the beginning of the shutdown, Borowiak was able to develop his minimum viable product, a powder version of the acid-neutralizing material called NeutralCoat™. 
NeutralCoat™ currently has eight potential customers and test sites for third-party testing, mostly with companies who produce acid-proof coatings, paints, and flooring. 
"One of the biggest problems in plants is the spilled acid will sit around on the floor and someone won't know it's there and walk into a space and slip and fall," Borowiak explained. "They are not just slipping and falling in water, they're slipping and falling in acid and it can be extremely dangerous. Whereas if you have our material on the floor, it's not like someone needs to know it is there. The material is already doing its thing."
While neutralizing acid is the major component that separates Borowiak's material from other PPE, another feature will also make the products more attractive.
"All of our materials are actually recyclable. I have tested it up to 30 times. You can use it back and forth 30 times and it loses very little efficiency at 30 uses," Borowiak said. "One of the biggest problems in the PPE industry right now is everything is one-time use. People do use things more than once, but they shouldn't. With our product, if you want to use it again, just throw it in the washing machine with our reactivation solution and you are ready to go."  
Borowiak looks forward to continuing the development process for his product and plans to apply for more funding soon. And while his eyes are fixed straight ahead, he has a true appreciation for those who have helped him get to where he is now. Partch has been invaluable to Borowiak in the lab, and Hoose and the Shipley Center have offered plenty of guidance.
"Dr. Partch really believed in me, this little freshman kid coming up to him and talking about this big idea. But without his belief and without Jamey's belief I might have lost faith," he said. "They bridged the gap for me in a lot of ways."
https://www.clarkson.edu/news/building-collaboration-clarkson-alumnus-develops-acid-neutralizing-ppe