Clarkson University Chemistry Ph.D. candidate Daniel Massana Roquero of Madrid, Spain, has been awarded the Outstanding Teaching Award for Graduate Students for 2022.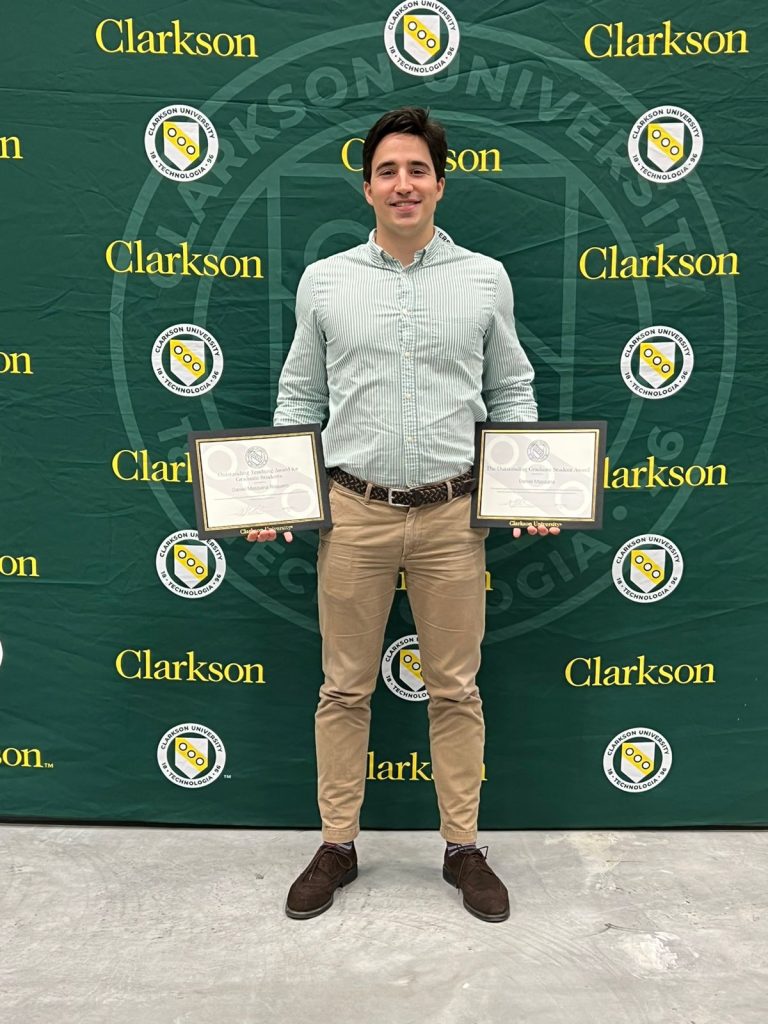 Daniel has been a Teaching Assistant for General Chemistry I and II for more than 2.5 years at Clarkson as a graduate student. He works with students in both the classroom and the laboratory in each of his semesters as a TA and reinforces lessons imparted by Dr. James Peploski, director of the General Chemistry course.
Some notable and comprehensive quotes from his student evaluations are, "He clearly explains each assignment and did a great job helping those who need help. He is on his way to becoming the next chemistry professor at Clarkson." Other students noted that his teaching was, "excellent and that he understands the material clearly. He is a great teacher." Another student said that "Dan was a great TA. He was funny and tried to make things interesting. I thought he was really great at explaining ways to do the questions."
He graduated with a Bachelor of Science in Chemistry from Universidad Autónoma de Madrid (Spain) in 2019. After a short research stay at Universiteit Hasselt (Belgium) supported with an Erasmus Scholarship, in 2019, Daniel joined the groups of Prof. Katz and Prof. Melman at Clarkson University where he is currently a Ph.D. Candidate graduating in May 2022.
His research interest is focused on smart drug delivery systems. From his research, several peer-reviewed publications and one patent were published. Daniel was also awarded the Outstanding Graduate Student Award from his department, recognizing his significant contribution to scientific research.
https://www.clarkson.edu/news/clarkson-graduate-student-honored-outstanding-teaching-award-1