As we look ahead to FY20, now is the time to consider further investing in student success. As a valued member of Clarkson, you can go above and beyond by adding Clarkson to your philanthropic plans and giving through payroll deduction.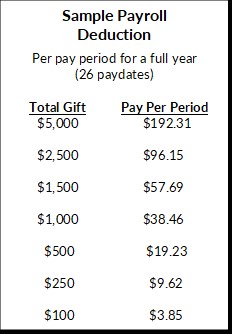 Payroll deduction contributions quickly add up and allow you to give more over a period of time. You can take pride in knowing that each pay period, you are contributing vital resources to students, and allowing the University's programs and departments to thrive, making the campus community and experience better for everyone.
Please fill out this gift form and return to Development Operations, Box 5510 by June 15 to begin your FY20 commitment the first pay period in July.
As a reminder, there is still time to make your FY19 gift. Your contribution will help us reach our 30% participation goal and, if it's allocated to the Student Emergency Relief Fund, it will put us closer to the $5,000 we're hoping to raise. We need 79 additional donors to hit the participation goal and have just under $500 to reach our goal for the Fund. Now is your chance to make a difference. You can make your gift online by clicking here.
For questions about payroll deduction or the Faculty & Staff Campaign, please contact Assistant Director of Annual Giving Programs, Melissa Todd at 315-268-3734.